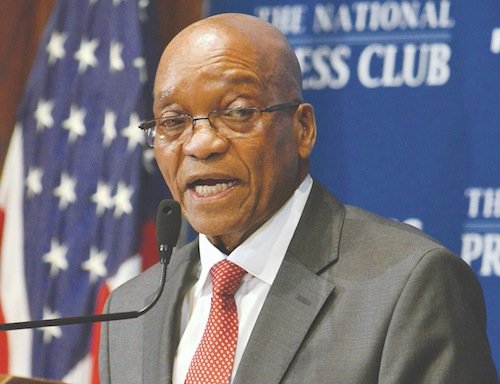 South African President Jacob Zuma told media and guests at the National Press Club on Monday, Aug. 4 that South Africa is open for business. He said that he and other leaders from African countries prefer African-led solutions to African problems.
Stories this photo appears in:

The largest gathering of African leaders in the U.S. went off without a hitch.

African Leaders, Obama Work to Strengthen Economic Ties
It should be no surprise a landmass that could easily fit the United States, China, New Zealand, Bangladesh, India, Peru, Greece, Mexico, Papua New Guinea, and most of Europe has a bag of continent-sized issues stalking Africa's 54 nations and its more than one billion people. But over the course of three historic days, the focus of 50 African presidents and heads of state, President Barack Obama and members of his administration has been to look at these problems as opportunities.