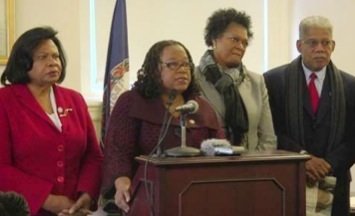 Members of the Virginia Legislative Black Caucus introduce their 2014 legislative agenda during a news conference at the state Capitol on Jan. 8. From left are Delegate Rosalyn R. Dance (D-63rd District), state Sen. and caucus chair Mamie E. Locke (D-2nd District), Delegate Delores L. McQuinn (D-70th District) and state Sen. Henry L. Marsh (D-16th District). (Courtesy photo)
Stories this photo appears in:

Reproductive rights, Medicaid expansion and limits on celebratory gunfire are among the items on the Virginia Legislative Black Caucus 2014 agenda.