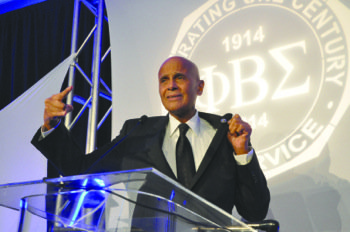 Harry Belafonte served as the keynote speaker at Phi Beta Sigma Fraternity's Centennial Founder's Day Gala held at the Renaissance Hotel on Saturday, Jan. 11. Belafonte also challenged the crowd to fight vigorously against violence directed toward women.
Stories this photo appears in:

Phi Beta Sigma Celebrates Centennial
The Phi Beta Sigma fraternity's Centennial Founders Ball had a distinctive Civil Rights flavor as more than 1,000 fraternity members and supporters celebrated the organization's first 100 years.