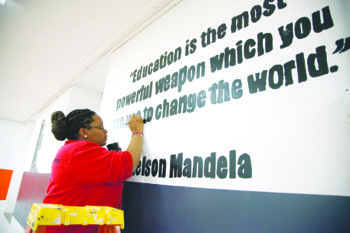 Program Director of City Year Corps, Janae Eason, 27, paints a quote on the wall from Nelson Mandela during a Day of Service in honor of MLK Day at Coolidge Senior High School in Northwest on Monday, Jan. 20.
Stories this photo appears in:

More than 1,000 millennials recently answered the call to serve, taking part in large-scale renovation projects at three District schools during the Dr. Rev. Martin Luther King Jr. holiday.