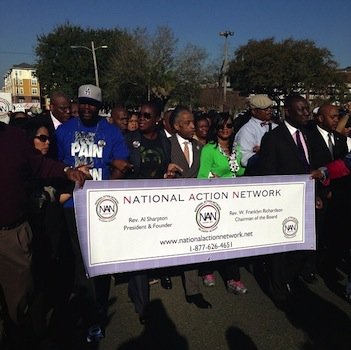 From left: Lucia McBath, mother of Jordan Davis, Tracy Martin and Sybrina Fulton, parents of Trayvon Martin, Rev. Al Sharpton, president of National Action Network, and Phyllis Giles, mother of Michael Giles, march to the Florida Capitol on March 10 in Tallahassee, Fla., during a rally against the state's "Stand Your Ground" laws. (Courtesy of National Action Network)
Stories this photo appears in:

The Rev. Al Sharpton, joined by the parents of Trayvon Martin and Jordan Davis, led a crowd of hundreds Monday to the steps of Florida's state Capitol in a demonstration against the state's controversial "stand your ground" law.