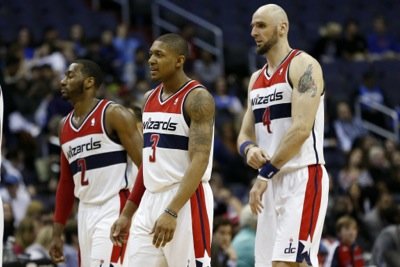 From left: John Wall, Bradley Beal and Marcin Gortat (Courtesy of XNSPORTS)
Stories this photo appears in:

The pending sale of the Los Angeles Clippers to former Microsoft CEO Steve Ballmer has set off a firestorm of speculation in the financial world where many believe the $2 billion price paid for the franchise has greatly enhanced the value of other teams, including the Washington Wizards.

I am so excited for the Washington Wizards! I mean, it really looks like they are going to be in the playoffs.

With less than 20 games left, the Wizards conceivably could end the season as the third best team in the Eastern Conference, which would guarantee them home-court advantage in the first and possibly second round of the NBA playoffs.