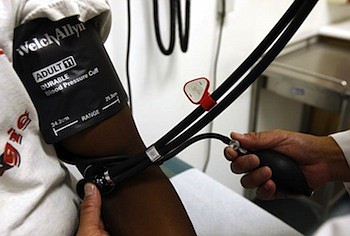 African-Americans tend to have higher rates of early death from related high blood pressure problems, such as coronary heart disease, stroke and kidney failure. (Courtesy photo)
Stories this photo appears in:

Older African-American patients who have heart emergencies are more likely than their white counterparts to have their ambulance diverted to a hospital farther away from their home due to overcrowding at the nearest hospital, according to a new study by California researchers.

Jummy Olabanji of Washington, D.C., has been named to the National Kidney Foundation board of directors.

High blood pressure affects 68 million Americans—that's nearly one in three adults.