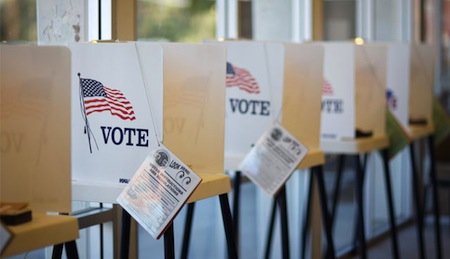 Courtesy of alabamavotes.gov
Stories this photo appears in:

The Organization for Security and Co-Operation in Europe recently announced it will be sending 500 observers to monitor the 2016 election.

Are you ready to vote? Are you registered? These may seem like simplistic questions, especially for those who are aware, but every year some folks are denied access to the polls because they didn't register on time, or they moved and their address does not match the address the registrar of voters has, or something.

The resurgence of a 1960s organization that helped Black politicians make strides in elections is now working to drive the Black vote in the Black Belt states.

Civil rights leaders around the country are taken aback over a recent decision by the state of Alabama to close 31 driver's license offices, many in majority Black and poor areas.

A federal appeals court on Wednesday struck down Texas' voter ID law, which it says violates the Voting Rights Act.

As the 2014 election unfolds, I fear White voters are poised to make choices at the polls that are certainly not in my best interest, that pose a danger for the entire world, and that ultimately are not even in the best interest of the "angry White men" who are leading this rush to "MAD"-ness ("Mutually Assured Destruction").

The NAACP Legal Defense Fund is protesting Alabama election rules that require voters without photo identification to either prove their identities or have election officials vouch for them.