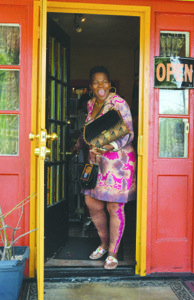 Juanita "Busy Bee" Britton, owner of the Anacostia Art Gallery & Boutique in Southeast, has sold her popular business but will remain in operation until the end of October.
Stories this photo appears in:

I'm so sorry to learn that Juanita Britton will be closing her gallery. For as long as I can remember, her gallery has been a staple here in Anacostia.

Juanita Britton Will Vacate Premises by Oct. 31
For those familiar with one Southeast businesswoman nicknamed "Busy Bee," the news that she'll soon close her doors has set off a flurry of poignant salutes and brisk sales.